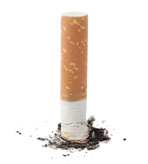 Tobacco has been shown to be a contributory factor in delayed bone healing.
Smoking also adversely affects bone mineral density, lumbar disc degeneration, the incidence of hip fractures and wound healing. Clinical trials and demographic studies have reported poor prognosis for fracture patients who smoke.
Even giving up smoking 48 hours before an operation can improve outcomes for patients. If you smoke, this may be an opportune time to stop.
10 steps to Quitting
Write out your reasons for quitting
Pick a day and stick to it
Use the support of family and friends
Avoid routines or triggers that would normally prompt you to smoke
Get active
Don't worry about a cough, irritability or poor sleep after giving up, it is a sign that the body is starting to heal
Deep breathe and the craving will pass after 3-5 minutes
Save money
Watch what you eat- avoid chocolate, sip a fruit juice
References
Effect of smoking on tibial shaft fracture healing. Schmitz et al. Clin Orthop Relat Res. 1999
Effect of nicotine on the rate and strength of long bone fracture healing. Raikin et al. Clin Orthop Relat Res. 1998
Cigarette smoking and bone healing: implications in foot and ankle surgery. Haverstock et al. J Foot Ankle Surg. 1998
Smoking and bony union after ulna-shortening osteotomy. Chen et al. Am J Orthop (Belle Mead NJ). 2001
The effect of smoking on clinical outcome and complication rates following Ilizarov reconstruction. McKee et al. J Orthop Trauma. 2003