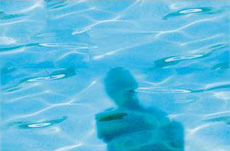 Can I Swim With A Cast?
Wearing a cast puts a dent in any swimming plans you may have over the next couple of weeks. The plaster of Paris casts should not get wet at all. The fibreglass casts are a little more water-resistant. Generally, avoidance of swimming during this period is best.
While you may keep the affected arm (or leg!) out of the water, a better solution is to buy a cast protector. This is a plastic bag geared to keeping the cast dry while in the water. Be sure that it does not leak. Carrying some water-resistant tape will help stick any loose spots in or around the bag.
While swimming may be possible with a cast, getting into or out of a pool may be difficult, so factor this into your plans. Remember, a cast impairs your balance and mobility so beware on those slippy floors!